Song parodies and Music Videos
It was suggested by visitors to the site that I put up a sub-section with LotR-related Song Parodies. So I thought I'd try that.

I've also been sent some music videos relating to Lord of the Rings. They are now being stored in this section as well.

Please apologize for the slow updates. I'm busy with my job and other hobbies, but I am trying to keep it going and appreciate every submission; it just might take a while until it's up. Thanks for your patience.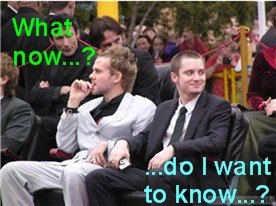 [ENTER THE SONG PARODY SECTION]

[ENTER THE MUSIC VIDEO SECTION]

If you've got a song parody or a caption that fits a song, or if a link is broken, please let me know at .
Music Videos are best transferred via AOL Instant Messenger. My user name is "AlwaysLaWise".

Thanks and enjoy!



---