Contest # 36
Due to a typing error, the hobbits were surprised to see Shelob turn up early when the script demanded the appearance of a Giant Strider.

by Zion_Ravescene Merry: I think that fly is over there. by Luke Along with Sam's quick sense of bravery, he begins to smell something burning... by Christiana It's a scarey thing, singing happy birthday to a three year old oliphaunt... by Robin The hobbits realise that trying to defeat the Flaming Eye of Sauron with only Sam's fists and a candleabra wasn't going to be the great victory it had appeared after one-to-many pints... by Tolkienite Sam wows Merry and Pippin with his amazing shadow puppets by Becca
To view all submitted captions, please go [here]
---
Icon from GP, taken from [Arwen Undomiel] .

---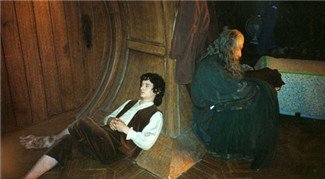 Consequences of a big barbecue, waiting for PJ to get out of the bathroom the next day...

submitted by little_pirate

---
A Cleaning Lady's Sorrows...
by LaWise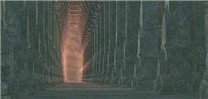 *Scene: Long Corridor in the "Motel of Moria - Best Beds Within the Next 40 Days"*

Narrator - Meet the Motel's cleaning lady...
*... silence... some cicadas chirping in the background... *
WHAT did you just call me?!?!
Narrator: ... . Please apologize for this error. The person responsible for the casting has been fired. This won't happen again.
Ahem.
Ah. Here's our cleaning lady, currently preparing her cleaning soap-water for the regular cleaning of the long corridors of the Motel of Moria.
*happily shrubbing the floors, cleaning the rooms... until....*
... *a closed door....*
[insert Dramatic Chord here]
Narrator - But our good cleaner has - like all good cleaners - a door key! So she openes the door... and...
Galadriel - 'Morning! Cleaning Service!
RRRRRROOOOOOOOOOAAAAAAAAARRRRRRRRRRHIIIIIISSSSSSSSSSS!!!
Galadriel - Okay... okay... I'll come back later... no need to flip!
---
Aragorn - Is that dirt on my cloak?

submitted by Viggo2000

---

(Legsie and Merry had been getting on each other's nerves for a long time, and it finally erupted)
All you ever do is drink!
....
Hey! That's not true!
Thank you.
He also hiccups.

by Lady Jane, Elijah's Grey Panthers

---
submitted by Perhin Gamgins

---
Frodo, are you all right?
Oh, my head!!
... The last thing Frodo remembers...
That's the last straw!! I am NOT fat!!!

submitted by psychosmeagol

---
Gandalf's next big movie, The Day After Tomorrow

submitted by little_pirate or

This is what happens when Gandalf does the laundry himself...

submitted by Perhin Gamgins

---
And I have to admit, Reverend, I think I might have stolen half of Elijah's White Stripes CDs.

submitted by Kelly

---
submitted by Peregrin Took

---
Elrond - Arwen, humans are a virus.

submitted by RapidashRachel

---
both sumbitted by Peregrin Took, unknown source

---
by haleycopter, Elijah's Grey Panthers

---
We must join with them, Obi Wan. We must join with the dark side. It would be wise, my friend.
Tell me... *friend*... When did Count Dooku the Wise abandon reason for madness?
HHHRRAAAAHHHHH!

submitted by Rapidash Rachel

---