Caption Contest # 28
Picture suggested by Tallulah.

Elijah- Come on, Pete, does the gold go with the green or what? by Rachel PJ: HOLY CRAP!
Elijah:what?
PJ: THEY FORGOT TO PUT NEW ZEALAND ON THE GLOBE! by DwarfPrincess Elijah: PJ?
PJ: Yep?
Elijah: Well number one, im happy you're wearing shoes.
PJ: And number 2?
Elijah: They happen to be firmly planted on my feet, and it hurts. Please move! by mrs. aragorn Elijah: Since the movie was basically all me... I'll be taking this by anonymous Lijah: I'm all right.
Pete: no you're not, you're exhausted, it's the paparazzi it's this place, it's that thing in your hand, I could help a bit, I could carry it for a while.
Lijah: STAY AWAY!!! by Stephanie Pete : Give me that Elijah my dear.
Elijah : [giggles] Why ? Because it's your birthday and you wantssss it ?
Pete : No, because it has "Best Director : Peter Jackson" on it. by Camellia Elijah: "Now, Pete, about that raise..." by Robin I let you keep the ring, now give me back my award! by Lady Jane Peter-"24-carat gold plated. Not solid. Are you sure?"
Elijah-"Positive. Sorry mate. Your dreams to buy New Zealand will have to wait." by Daronda
To view all the submitted captions you can go [here] .

---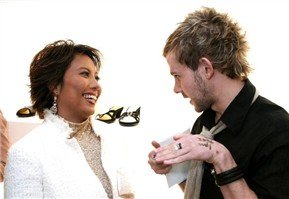 Merry finally figured out that big hairy feet were not in style anymore.

submitted by DomanMetheTreeLvrs

---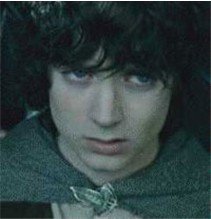 Geez, what I would do for a haircut these days....

submitted by Kemi

---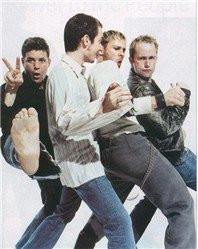 Sean decides to show people that he did not, infact, need hobbit feet for this shot.

by HippyHobbit77, Elijah's Grey Panthers

---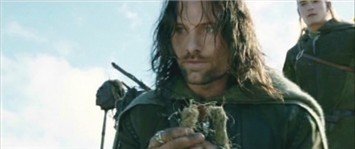 Legolas - Gimli's *finally* coming with the food.
Aragorn - Good! I'm tired of eating ropes.

submitted by David

---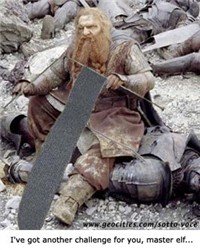 Gimli- Here's another challenge for you, Master Elf!

submitted by Bubbles

---
Elijah's training for the part of his life started early...
put together by HobbitObsession, Elijah's Grey Panthers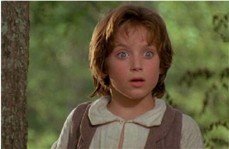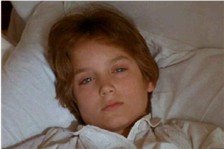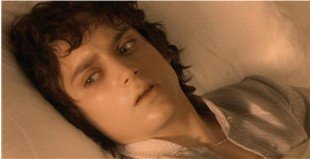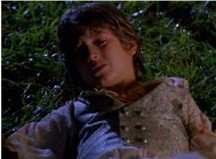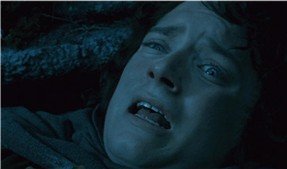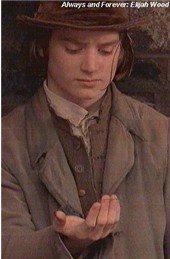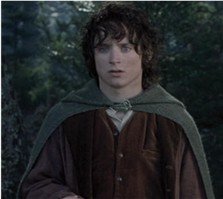 ---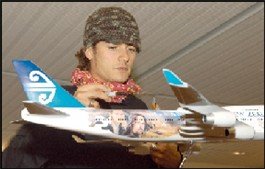 Orli turned to dirty tricks in order to keep his spot as the prettiest. He "borrowed" the sketch the planedecorator was going to use and drew a mustache, a big beard and horns on Aragorn.

by Dunwethien, Elijah's Grey Panthers

---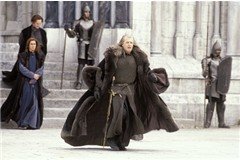 Denethor tried to prove to Gandalf that he can "fly you fools".

submitted by DwarfPrincess

---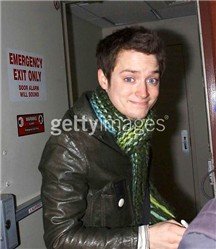 Elijah found it necessary to borrow Billy's Scarf of Doom when doing extra scary things like meeting fangirls.

by Celebalqua, Elijah's Grey Panthers

---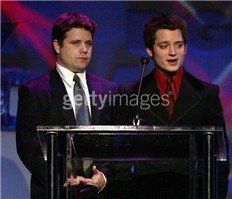 Sean And elijah decided to fond their own political party, and are currently campaigning their political program.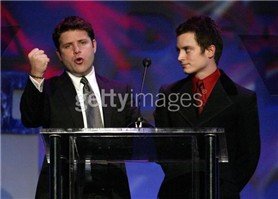 Sean: We fight for the little people! They've been ignored far too long, but we'll make sure YOUR voice is heard!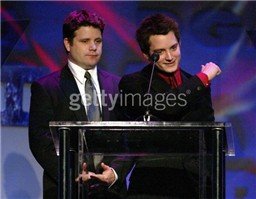 Elijah: And We'll make sure that NOONE is starving, as we're going to arrange mac'n'cheese stations all over the nations to feed the starving.

by Calenkemeniel, Elijah's Grey Panthers

---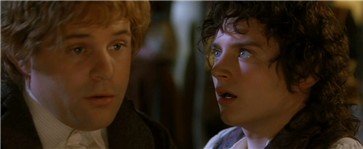 Elijah just realised Sean's wig is on sideways.

by Elanor Vanimedle, Elijah's Grey Panthers

---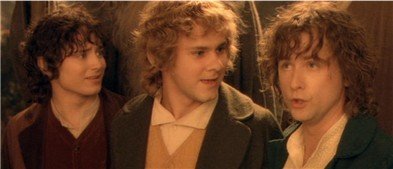 Pippin confused everyone when he spontaneously burst into a bass voice rendition of "you are my sunshine" as a farwell to Elrond.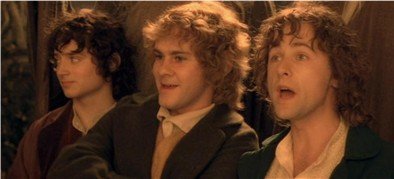 Frodo: This is going on waaay too long!
Pippin: You make me happy, when skies are gray...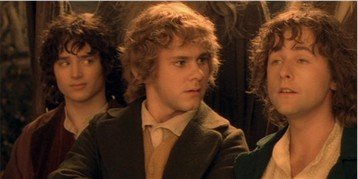 Frodo: Oh Eru, he smells of pints.
Merry: yikes, i think he forgot the words...
Pippin: Hiccup!

by Elanor Vanimedle, Elijah's Grey Panthers

---
Inspired by O Brother Where art Thou
avatars by Elanor Vanimedle, Elijah's Grey Panthers




---