Middle Earth to Earth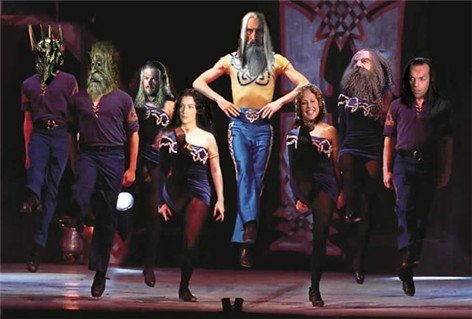 First of all.. Let's talk about Riverdance and ME. Any member of the Plaza knows that this is true. They tried to keep it hidden, keep it safe...but nooo. We couldn't keep it that way..
(Evidence taken by Protoguy at the Fanatics Plaza.)
~~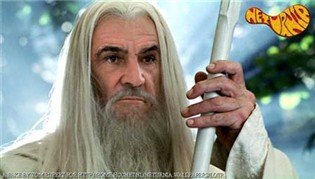 If Sean Connery had been cast as Gandalf....
~~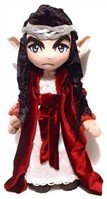 'The Eyebrows of Doom!'
Elrond puppet to scare children with.
If your not running yet, you better start now...
~~
Concerning Hobbits by Gollum
(Houndog - Elvis Presley)
You aint nothing but a tricksy!
Foolin' all the time.
You ain't nothing but a tricksy.
Foolin' all the time.
You always trick nice Smeagol,
So you ain't no friend of mine.

You ain't nothing but a fatso!
Eating all the time.
Yeah yeah you aint nothing but a fatso,
Eating food that's ripe.
You never ate a raw rabbit,
So you ain't no friend of mine.

I'll kill them all, precious!
The ring will be mine.
Yeah yeah, I'll kill them all, Precious!
They don't have much time.
They always plays tricksies,
So they aint no friends of mine.

~~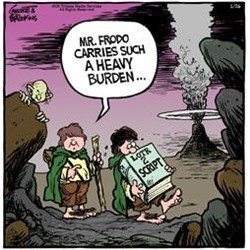 ~~
Elven Queen
(Dancing Queen by ABBA)
Looking out for a man you know.
Where your dad's lived for centuries, where he wields the ring,
You've come to look for your king.
Aragorn-babe will be that guy
Night is young and the moon is high
With some nice Celtic music, everything is fine
You're in the mood for a kiss,
And when it comes to this....

ch. She wants to be Elven Queen,
Old yet young, way past seventeen.
Elven Queen, fight for love
Coz your daddy's mean- oh yeah!
You can cry, you can grieve,
Still daddy says you must leave.
Ooh - see that film, watch that scene
Dig in the Elven Queen

He's a teaser, he turned you on,
Leaves you burning, says 'get thee gone!'
But you gave him your jewellery -
No one else will do
You would give up your life,
To be old Scruffy's wife!

~~
ABC...
A is for Arwen, who missed the last boat
B is for Boromir, who punctured his coat
C is for Celeborn, outclassed by his dame
D is for Denethor, slightly insane
E is for Éowyn, whose pop kicked the bucket
F is for Frodo, who can't seem to chuck it
G is for Gimli, whose beard needs a comb
H is for Haldir, who should've stayed home
I is for Isildur, for whom arrows itch
J is for jewelry it's better to ditch
K is for Khazad-dum, in need of remodelling
L is for Legolas, whom fangirls keep ogling
M is for Mithrandir, who had a big fall
N is for Nazgûl, who's not fond of dolls
O is for Oliphaunts, who pack a big trunk
P is for Pippin, who's got lots of spunk
Q is for Quenya that's no longer spoken
R is for Redhorn: the ski slope ain't open!
S is for Saruman, who likes to raise Wargs
T is for Thingol, who got gypped by Dwarves
U is for Uruk-hai in need of a shower
V is for Varda, celeb with star power
W is for Wormtongue, whose diet is icky
X is for slash fic or hat tricks and hickeys
Y is Yavanna, a tree-huggin' darlin'
Z is for Zirik-zigil. What's that in Sindarin?
~~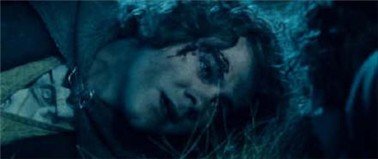 Merry: Oh, Pippin.. You know what? We would have been better of at home, in the warm and friendly Shire.
Pippin: *muttering* No shit Sherlock...
~~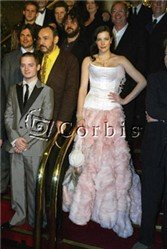 Suddenly Elijah realized why he always has to stand in the front...
~~
Q: What do you call an Orc saying Hello?
A: An Uruk-Hi!
~~