RC Billy and RC Elijah
by Simmer, Elijah's Grey Panthers


Now, YOU TOO can own the newest remote control toy from New Line Studios -- RC Billy!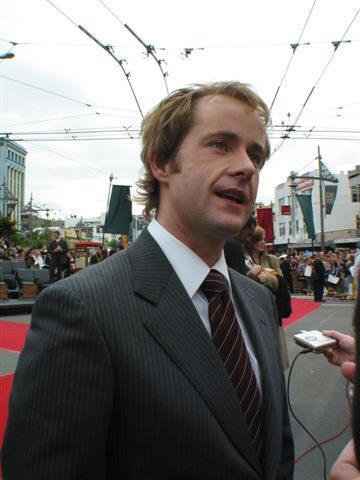 Only $199.99, life-size RC Billy comes with 4 antennae for broader range (up to 300 ft!!) -- our operator in the background is holding this state of the art remote, and as you can tell, our Billy looks like the real McCoy! Order yours today!
(for an additional $19.99, you can order RC Billy's additional outfits-- the Pippin wardrobe, and the traditional Scottish kilt! Hurry, supplies are limited!)
---
Well, you asked for him, YOU GOT HIM! Here, by popular demand, is our latest version of LOTR remote control toys: RC Elijah!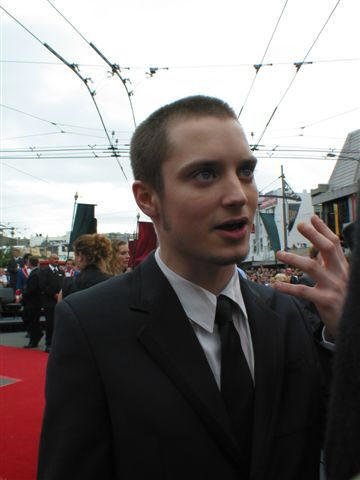 That's right, for the introductory price of only $199.99, RC Elijah can DJ your party, recite famous LOTR (including TTT!!) dialog, or even ask your friends for a cigarette! (don't give him one -- not a child's toy)
While supplies last, you may also purchase additional wardrobes -- the Frodo costume, and the famous brown jacket, for only $19.99! If you act now, we may throw in a surprise -- Sting!
Call 1-888-newline -- call now!
Oh, yes, the fall-down feature is of course included!
The CD collection is not. However, if you program in the ones you have, he will choose from those and play titles that match the programmed criteria!
Costumer Request: Simmer, I'll take the EW version. However, that hand thing... is that a defect? is there a discount?
In this particular picture of RC Elijah, the operator has him asking for a cigarette -- the motion he is making is that of smoking -- "Got a smoke?" We only customize our RC's for the wealthy who are willing to pay for what they ask for. Although you may be adverse to the handsignal, you have the choice of never having Elijah perform it. I hope that answers your question -- sorry, no discount. What DOES RC Elijah do with a cigarette? We had never intended him to be able to "suck," but some of our engineers had a sense of humor and threw in this capability. In trial studies, we have found that because we haven't programmed in a request for a "light" (and, of course, we don't include one on him), he gets very frustrated and confused by trying to smoke the cigarette. After about 5 minutes of straining, RC Elijah will have a short out; the remedy is to hit the reset button located under his tattoo.
One of our technicians suggested we go ahead and light the cigarette (as someone will undoubtedly feel sorry for him and do so). The result? Obviously, since RC Elijah isn't equipped with lungs, the smoke goes down into the circuitry and begins leaking out of various Elijah orifices and cracks. Although this might be temporarily humorous, we feel it is not in the best interest of your investment to allow him to continue to expose himself to this maltreatment.
---
Customer Request: Any danger of overload?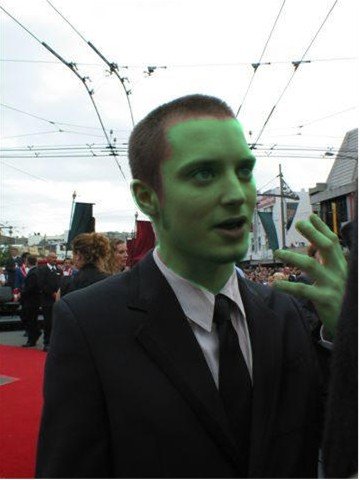 ---
Customer question: What kind of vocabulary does he have? Hopefully, he won't be the potty mouth he usually is...
Answer: RC Elijah has 2 modes of conversation, "Polite," and "Common." If you are in doubt, always choose the "Polite" setting.
---
Customer question: I hope he comes with a rechargeable battery as I'm sure I'll wear him out in no time.
Answer: We have a Lithium Ion battery for RC Elijah which can be recharged -- however, the tone of your comment suggests the hope that we may have created a "realistic" RC; I regret to inform you that this is not the case. Under threat of lawsuit, we could not create a realistic RC capable of, um, shall we say, performing extracurricular activities, without the permission (and details) from the model. We were not given such permission.
But, we did want to leave you with a success story, given to us by M. Sheridan from Washington DC:
"Thank you so much for my RC Elijah!! I have a terrible 45 minute commute to and from work every day, and with RC Elijah in the car, it has become a joy! Not only does he help me relive my favorite moments from the LOTR films, but I actually have people moving over for me in traffic once they see 'who' I have in the passenger seat!! (Plus, I get to go onto the HOV lane!) Thanks, New Line!"
---
Due to increase in demand and economies of scale, we are now able to offer you a Special Offer from New Line ! If you act now, you can take advantage of this great deal: Buy RC Billy AND RC Elijah for the unbelievable price of only $350! THAT'S RIGHT!
We've had many people order both models -- one for themselves and a friend, or both for themselves! Just to let you know how some of our customers feel, we have a letter and shots of one of our satisfied customers who have bought both, Danielle T. from New Zealand:
"I've been a big fan of LOTR for a long time, and when I found out about the new RC's, I couldn't wait!! I know it sounds kind of selfish that I bought BOTH of them for just me, but I have had such great fun! I can hide away the remotes and walk around with them, and if you push down their antennae, no one can tell it's not really them! Anyway, I just wanted to let you know what a great product you've made, and if you decide to make a Dom or Sean, let me know! I've included a couple of pics with me and my RC at a party.
RC Billy has such a great smile: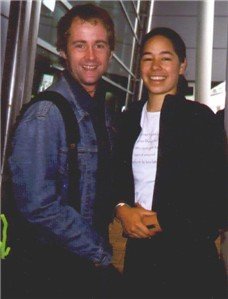 And, I love how you've programmed RC Elijah to put his arm around a girl -- makes it seem that much more real.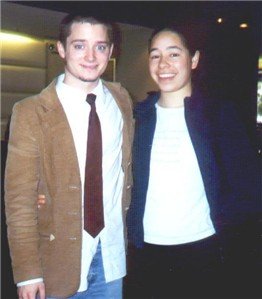 Well, I guess you can tell which one is my favorite by the tight squeeze I'm giving him!! Oh, and I love the brown jacket that came with his outfits -- it seems to fit the occasion no matter where we are. Thanks again."
Call now, while this offer lasts!!
---
Customer question: It comes with the One Jacket!!??? Mine didn't come with the jacket!! Is this a new accessory?
---
FrodoBaggins: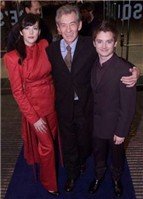 Looks like Ian got both the EW and LT models. Go Ian
---
Customer question: Does the RC EW have growable hair follicles AND retractible facial hair?????
Answer: As you well know, hobbits do not have facial hair, and we wanted to make sure you would be able to have RC Elijah look the part when you dress him in his Frodo outfit. You may not have noticed that we have designed him similarly to the Barbie "Rapunzel" doll, which has hair that can be shortened or elongated. Look carefully at the last lock of hair at the nape of his neck. If you pull it down about an inch, the facial hair will be drawn into the pores of the skin and disappear. Simply push the lock back in for the facial hair to reappear.
---
Customer question: Dear Technical Support... I am sending a picture of the R.C. unit I purchased.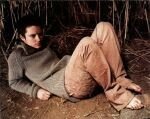 I don't want to be a pill about this, but, how often are you supposed to change the batteries?
Answer: All RC's come with a recharger for its battery, which fits into any standard US outlet (EU customers can order the adapter). It is a good idea to let the battery run completely down a couple of times and then charge it up again -- looks like your RC needs a recharge. If you notice your RC begins to sit a little more than normal, then lay down, you should begin charging. Which brings us to the picture you have of an RC being maintenanced -- our service man is looking for the inlet to plug in the charger...which is located where humans' normal "outlet" is...
---
Customer question: Dear New Line,
I love the new R/C Elijah, BUT the unit has taken to climbing walls recently. Here's a picture of what I'm talking about.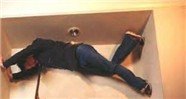 At first, I thought it was a rather clever trick the unit could perform, but then it started doing this everywhere I took it. At the mall, in museums, the library, and even in restaurants. It's embarrassing! The switches on the control box do not stop this action, and pressing the off switch on the unit itself makes him giggle insanely and run to the next wall to climb. It's getting to the point where I don't want to take him out in public anymore, and the giggling is very annoying when I'm trying to watch the evening news. I really don't want to yank the batteries, but what else can I do? Help!
Answer: Lucky you! You have obtained one of our newest models, which begins "learning" as you play with him! He will take on more and more of Elijah's characteristics as you expose him to more things. If you are unhappy with his wall-climbing, simply hit his reset button, and he will forget everything he has "learned." Then, make sure he doesn't bump into many walls...
---
Customer Letter: Well, I rest set my RC and not only did forget everything learned, he started falling down a lot.
Answer: If your RC falls down and CANNOT get up, you may need to recharge him. Normally, the RC Elijah will fall down occasionally, but he springs back up as if nothing happened.