Helloooo...
*gasp*
Hellooo little Hobbit-prince, prepare to be pleasantly wakened...
Don't you even think about getting near him!
Meep!
Now look what you did! You scared the Elf away! And pretty darn fast too, look at him run!
Don't care! This whole prince thing is a really stupid idea!
It worked on Snow White. And after all this IS a Fairy tale.
Okay, but what we would need then is a charming princESS!
You called?
Dispair no longer, brave ones, I shall save the prince!
ZzzzZZzzzzz...
Awake, oh sleeping one!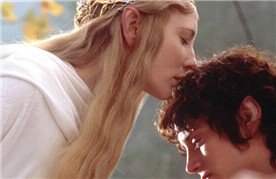 *smoochy*
Did it work?
ZzzzZZZzzzZZZ....
... zzzZZZzzzzZZ.... *thud*
Let me see.... No, I don't think so.
If it pleases Doms Brown Bobcat to continue, this will be continued some time during the next weeks.... .
---