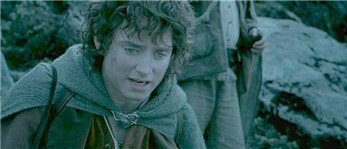 I've been woefully miscast, Sam.

by ThingsYouShouldKnow, Elijah's Grey Panthers (referring to a review of The Two Towers, which read: Personally the casting of Elijah wood was always a dreadful mistake as Frodo and although he is better here he is still woefully miscast, thankfully he is far less annoying than in the first installment.

---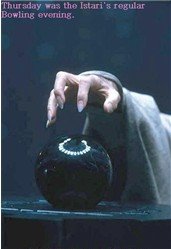 Thursday was the Istari's regular bowling evening.

---
Create a lunch worthy of Mordor!

---
Inadvertently, Frodo discovered the last great secret of the Ancient Elven Race: Wonderbras.

---
After a long hard day tormenting the hosts of Gondor, his crown hurt, his boots were killing him... he hoped Mrs Witch-King had run a nice hot bath and got his slippers ready.
---
Be honest. Do I look good in black?

---
The Inaugural Rivendell Surfing Challenge was not the success the onlookers had hoped for.
---


Here's written in the Fešnorian characters according to the mode of Beleriand:
Beware of the Balrog

---
(by Susan; taken from Toasted Hobbits)

---
(taken from The One Swoon of Middle Earth )
We have Starbucks! We have Starbucks! Mocha lattes!!


(by bullroarer took, Elijah's Grey Panthers)

---